Wooden & Copper Decor - Shop
livepages::jquery();?>
Here we have a range of unique home decor made using upcycled wood and copper, the mix of these two elements creates a beautiful rustic and on trend styling perfect for any home.
Our Wooden Log & Copper Quote Displays are made from upcycled wood and copper; hand cut, stamped and polished each display is completely unique. Full of rustic charm, these displays show off your favourite inspirational quotes, a great gift for family and friends or treat for yourself.
Products In This Category:
Showing 1 - 19 of 19 results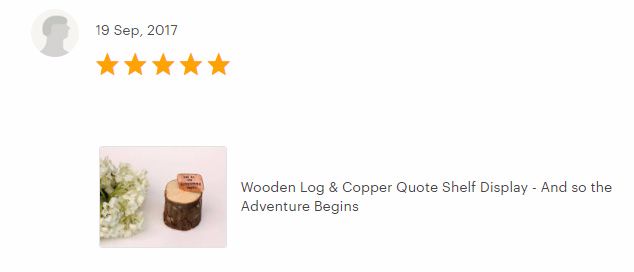 Due to the nature of copper it will tarnish over time from exposure to air and use. This is a completely natural process. While we polish each token, it will eventually start to dull. This gives the copper a wonderful new effect, however if you wish to return it to its shining appearance this can be done in many ways. For example, using white vinegar and salt, rubbing the copper gently and then rinsing it with clean water thoroughly can do this, as does using a solution of diluted lemon juice and salt, rinsing well after again.
Each token will differ slightly to the next in size and shape, some letters may tilt and some tokens will have more marks on them than others from their previous life before being up-cycled. This is all part of the handmade process we use, so please note the tokens you recieve will have a slightly different appearance to those shown in our images.
Not suitable for young children due to small parts.
International Delivery - due to these products being made from natural wood from Britain, Orgill Originals cannot guarantee International Deliveries will be available due to customs etc. Please check with your local customs office before ordering.