What's New in Summer Time
Posted on
The weather has been absolutely wonderful here and it has inspired us over the last few months to get creating!
We have slowly introduced a range of brand new leather bags, here you can find all these bags together and we'll tell you a little more about them...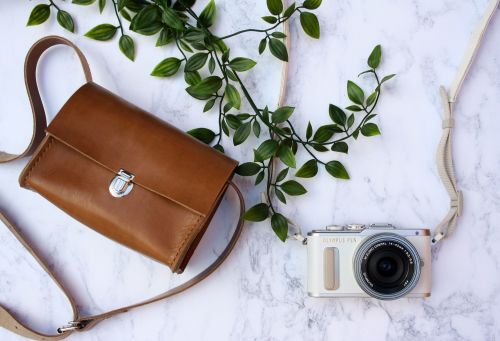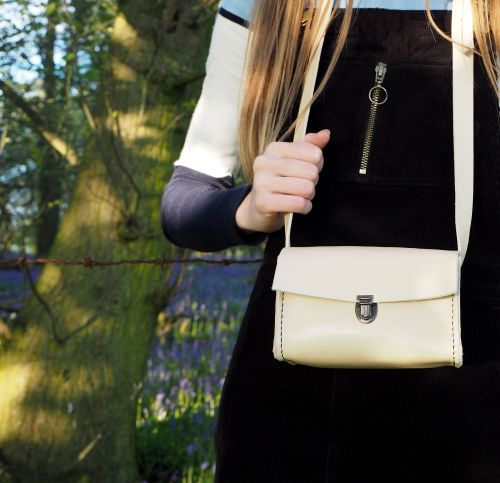 This little bag started out when I purchased a new compact camera, the Olympus E-PL8, it's the first time I've had a mirrorless camera, the touchscreen on the back of this camera is huge and I was determined to protect it from getting scratched! So what did we do? We designed a small bag specifically for this. With the soft suede of the leather as the inside of the bag it makes the perfect protector for the screen. I didn't want it be bulky or look like a camera bag so we kept it simple and non fussy.
Whilst this bag is designed to hold a compact camera its style means is can be used as a normal bag to compliment an outfit and no one would ever know! We used the Olympus camera as our base for this bag but that doesn't limit it to only this brand, as long as your camera has similar dimensions it should be good to go! The beauty of the tan and cream leathers we use to make these bags is they are still very natural and will stretch and mould around the items you place in the bag, so over time if you want to place an extra lens in your bag it will eventually move the leather around it.
Just like our other bags you can decide on the metalwork and thread colour for your bag, maybe match it to the colour of your camera? This finishing touch is up to you, click here to find both the tan brown camera bag.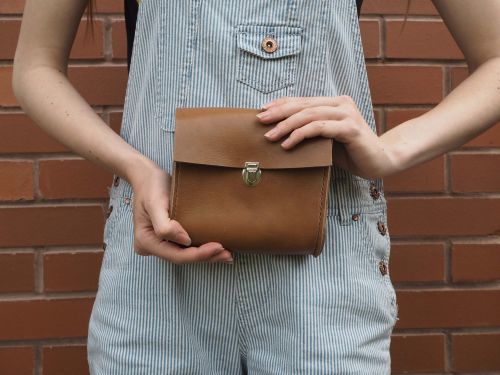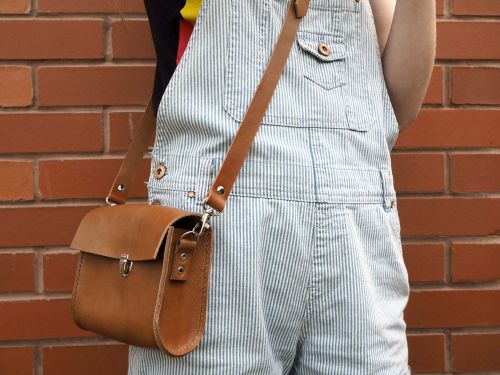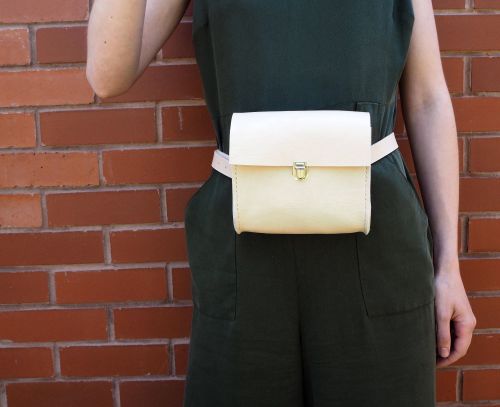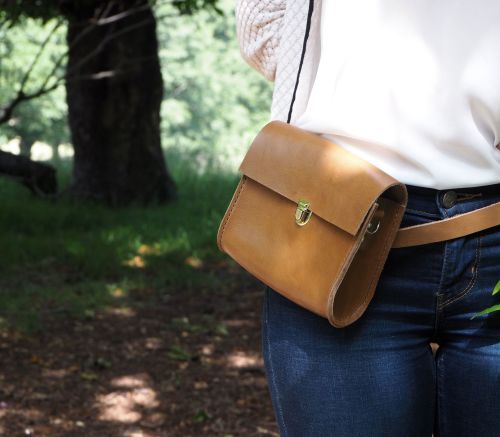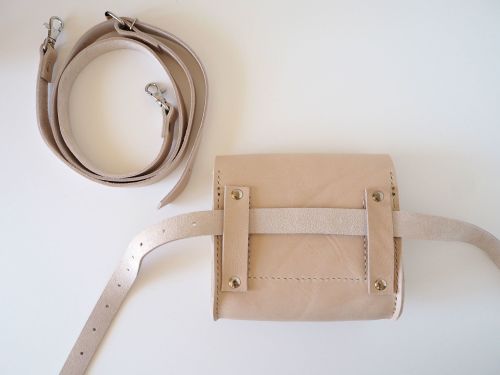 We knew we wanted to create a bag that could be worn around your waist, who doesn't love a little bum bag?! These bags are so useful for going on walks around your favourite nature areas or fun days out at festivals! This bag happened as a happy accident, we were in the process of making a camera bag which starts off as one rectangular panel to which we stitch the sides. Before the sides had been attached we put secured the tuck lock together and the leather folded itself in this way and we just fell in love with the shape and knew we had to recreate it for the waist bag we'd been longing to make!
We called it the Utility Bag because it can be worn two ways. It comes with a detachable shoulder strap and then has the option of using a belt we supply or use your own. The back of the bag has two slim bands which you simply thread your belt between and you're ready to go! Click here to find both the Tan and Cream Utility Bags.
The Zip Bags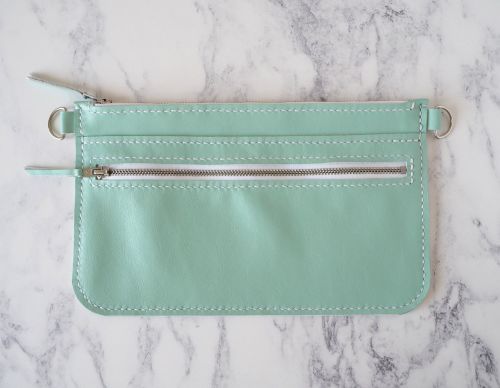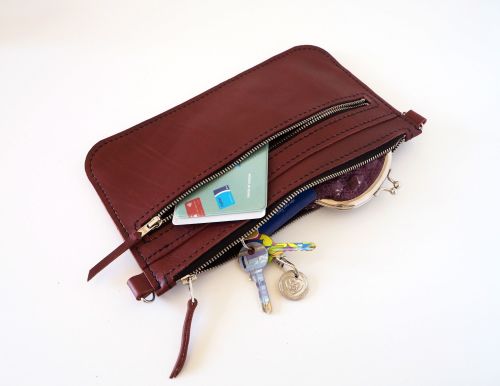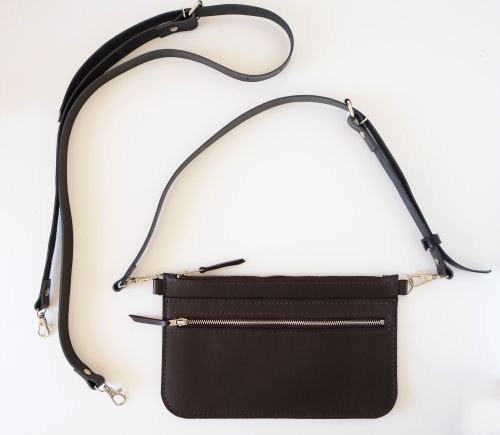 This bag came along after a special request, we had never used zips before but we're happy to give it our best shot! We we're so pleased with the results we have immediately added the style to our range. These bags are made from thinner leather than our usual tan and cream but this makes them perfect to wear around your waist and gives them the flexibility to fit in any odd shaped items. With two zipped pockets this bag is surprisingly spacious! This is another style that can be worn as a shoulder bag, around your waist or go completely strapless and use it as a clutch! We have made the straps out of our classic tan, cream and black, these are thicker leathers and so they are more durable as straps and belts. As the bags are made from thin leather we have a wider range of coloured hides that we can get our hands on, so if you love this bag and would love to see one in a certain colour head over to our Bespoke page and get in touch!
That's what we've been up to over these last few months. If you'd love to see our bags in person be sure to follow us on Instagram to find out the latest and what events we'll be exhibiting at!
Here's where we'll be in August:
Sunday 5th August - Strelley Hall, Nottingham, NG8 6PE

Saturday & Sunday 11th & 12th August - Swarkestone Nursury, Derby, DE73 7GQ
You can also find a selection of our leather goods in York at the lovely new bricks and mortar shop of Walter & May, definitely worth a visit at 9 Scarcroft Road, YO23 1ND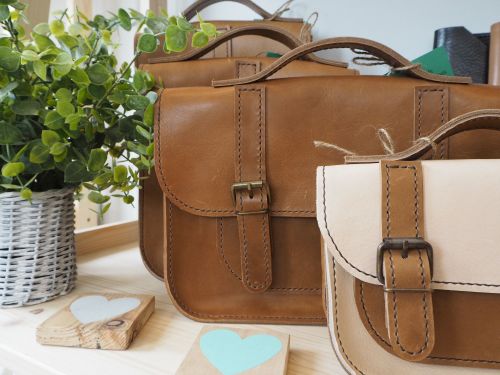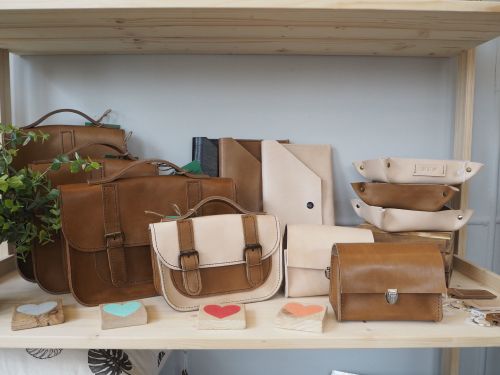 Until next time! x