Leather - what's it all about?
Posted on
Leather: what makes it so special?
Here at Orgill Originals we love leather and everything about it! So we wanted to share some info about the leather we use and how we use it.
Leather comes in all shapes and sizes - literally! - depending which cut from a full cow hide you have can completely change the texture and thickness of the leather. For example, the Shoulder is thick and doesn't have much flexibility while the Belly is often much thinner and can squish or stretch how you please. Here you can see a diagram of some of the different cuts you can get.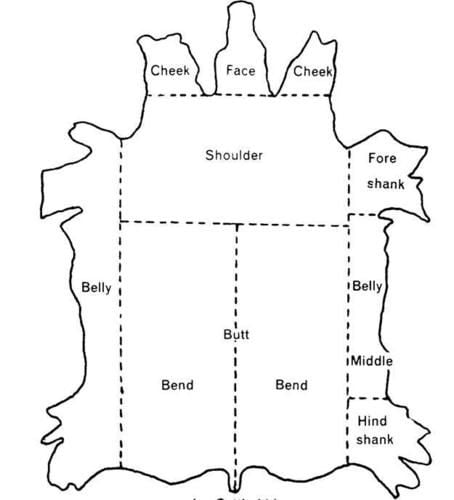 Image Source: Google Images | Diagram-of-Cut-Sections-of-Cattle-Hide1.
We tend to get a cut known as a Side - this is when the hide is cut from the centre line all the way round to the centre of the Belly, so you get a bit of everything, it gives us a large area to work with when cutting our Satchel pattern pieces. This does mean some areas are weaker and slightly thinner, such as around the Belly, however we use this for our smaller pieces such as key rings which don't need this strength.
One of the sources of our Leather is Pittards - a long standing British leather producer, we were recently featured in their online newsletter for the goods we produce which you can see below!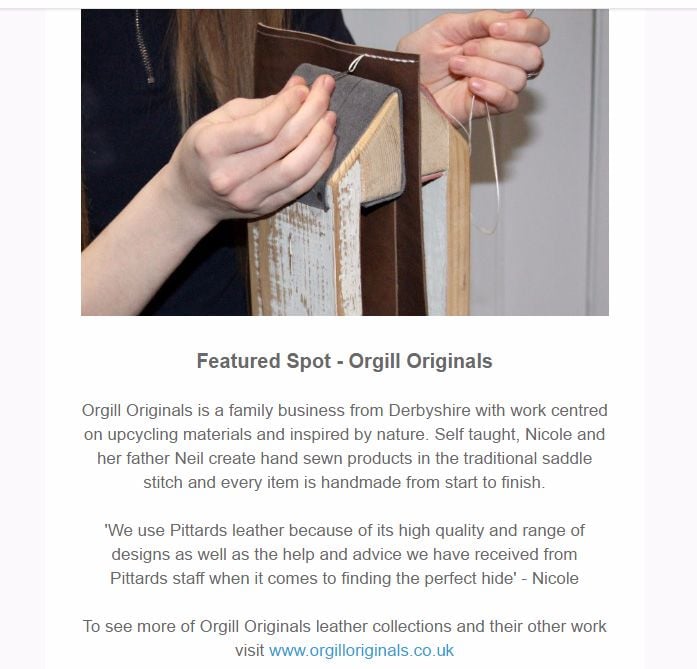 We hand cut all our goods from patterns we have designed ourselves. The beauty of leather is that no panel you cut will ever be the same. The natural Patina of leather - the marks and ageing of the material - differs from hide to hide. The hides we use most often have the soft fluffy suede-like side underneath and the smooth natural top layer, however some hides are so thick that they can be cut in between this suede and the top layer, this middle area is known as a Split which can then have an artificial layer applied to it to give it the same grain as the top layer or it can be used to create a full suede piece.
Once cut out into panel pieces for our goods we then use a Stitching Pony to sew the leather together in the traditional Saddle Stitch style. A stitching pony is basically a clamp that acts as a third arm to hold the leather is place while you stitch with both hands. It's called a pony because it has a seat attached and you sit on it like you would a horse!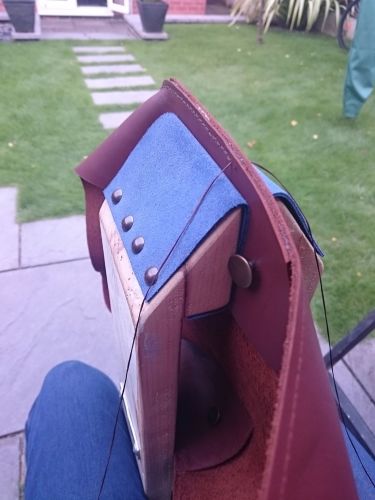 We made our own stitching ponies from wood and used scrap pieces of suede to place around the head of the clamp, this helps it to grip to the leather while also protecting it from getting scratched!
The Saddle Stitching process uses two needles, one on either end of your length of thread! This means it's very important to cut your thread long enough so you don't run out half way through! When stitching leather you have to use waxed thread, this is because during this process the thread is running though the leather repeatedly, hundreds of times in the case of a satchel! Regular thread would start to fray and snap, the wax helps to strengthen the thread and stops this from happening.
Hides can come in any colour or pattern you could imagine! My personal favourites are those that look most natural, deep rustic browns with lots of stretch marks and creases from previous life, they give a satchel a vintage feel, while using a bold bright unnatural colour can make a satchel look sleek and modern!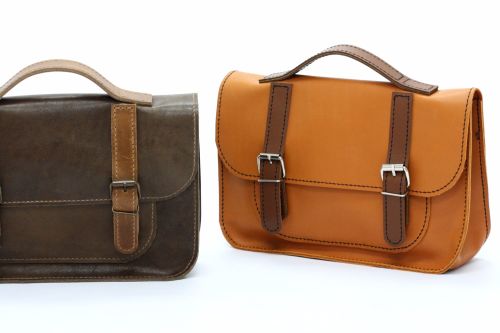 I hope this overview of leather has given you a little insight into this natural material and how we use it. We thoroughly enjoy using leather, working with it to get the best results for our end products big or small. To see our current Leather Goods range click Here
Got any suggestions of what you'd like to see in our leather section? Leave a comment below!