2016: What we've learnt
Posted on
As 2016 nears its end, we've all had time to reflect on what has happened over the past 12 months.
We plan to end December on a high as the past few months have been our most successful yet! As you may have seen we did our first 2 craft fairs in November and early December, and the reception from visitors and stall holders alike was overwhelming! I truly began to see our local crafting community for the first time.
We had so many compliments on our stall set up and one thing I have taken from these fairs is how unique our work is. I didn't see any similar products from other stalls (although every stall had amazing and inspiring products!) and visitors noticed this too. While our crafts may not be for everyone it was clear people appreciate that handmade touch we offer in every last product we make.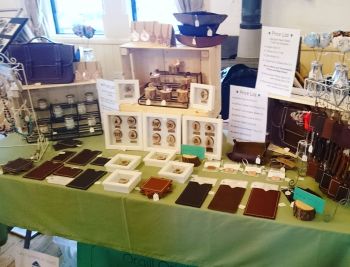 Our first craft fair @ Springfield Hall in Sandiacre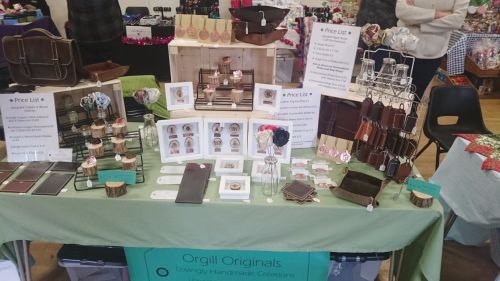 Our second craft fair @ Castle Donington
We also learnt that setting up and dismantling at fairs is very important! You have to be quick and organsied, while keeping your space tidy too! This was a challenge at first but I feel by our second fair we had improved already and plan to get even better as we attend more local fairs in the new year.
Since the fairs we have now introduced our leather goods and wooden insects to our online shop! If you haven't already seen these newest additions you can view them at your leisure in our Shop section.
If you follow us on Instagram I would also like to say a huge thank you to you, our Instagram following has grown massively over this year and has always provided us with positivity and support. It's also the place where I get to explain more about individual items, the stories behind them as well as what we get up to day to day! Check it out here
Crafting is a constant learning curve, with new ideas and techniques to be harnessed, here at Orgill Originals we have a wide range of products because my imagination is always getting the better of me! All our skills improve on a daily basis, from the actual manual work to updating the website and using social media! Juggling everyday life and creating a small business is a huge challenge but with determination, inspiration and plenty of support from family and friends I know 2017 will be even better than 2016.
I also plan to create more blog posts on our shop sections, so you can see and understand more of what goes into each product, in the mean time I wish everyone happiness and health and see you next year!